Heavenly Tracks AWS900+ Healthcheck
Console located at ERS Portland, Oregon July 18th 2018
Console Serial Number 168, build date March 2006

General Overview
An AWS900+ console in excellent condition, having benefited from regular and recommended maintenance, this console shows less wear than expected for its age and is in excellent cosmetic condition
Console PSU system
PSUs are stable and operating well, calibration not required. All PSU modules are working.
Computer
Computer has V4.0/13 Logictivity, TR and AWSomation software installed, working fine. Computer boots promptly and all digital functions work fine, no issues noted. Delta automation system not currently installed, but can be retrofitted by user installable software, cost for upgrade kit is $510.00 from SSL Los Angeles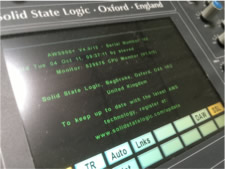 Center Section
All major functions checked. Aux and track busses all present and show correct levels, no issues noted
All other Center section audio busses show clean audio with no faults present.
VU meters for Rec L, Rec R, Mix L and Mix R all show consistently good level, no issues noted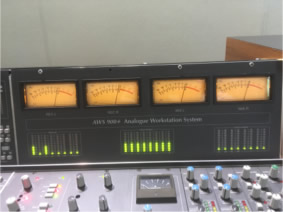 Channels
Channel switches good, major functions checked, no issues noted with all channels feeding the record and mix busses correctly. No distortion present from any channels
Pots Switches
All major pots seem good, none currently need replacing
No issues with pots, superanalogue mic pre pots normal and operating correctly
Faders
Faders are generally in good condition, wear consistent with age of a well maintained console. Fader firmware is performing well at revision CB7 no updates required or recommended.
A few later model faders noted showing a good preventative maintenance schedule. No cleaning needed at this time. Fader 21 performs as expected but with a slightly stiff action, replacement not recommended at this time
Scribble Strips
In very good condition, picture shows typical brightness, brightness and legibility is consistent across the console, no replacements required currently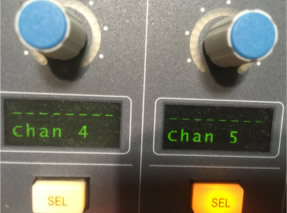 Patchbay
Custom 6RU Switchcraft solder point patchbay with Mogami cabling, layout shown, all connections between patchbay and console present, user connections will need wiring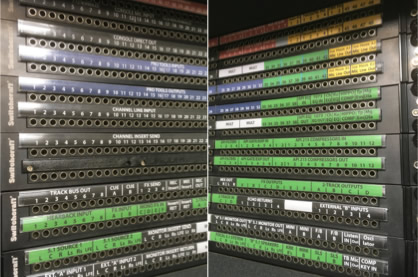 Cosmetic Issues
Custom console furniture by Sound Construction, is of very good quality and enhances performance with DAW screen mounts included. Original equipment legs and side trim not currently fitted as the surround furniture supports the console. Legs and side trim are still included and available and are wrapped for protection. Pics of studio show amount of space available for rack gear. Right hand rack is fan is enclosed, force air cooled and has front mounted temperature display (it is intended to house the DAW tower)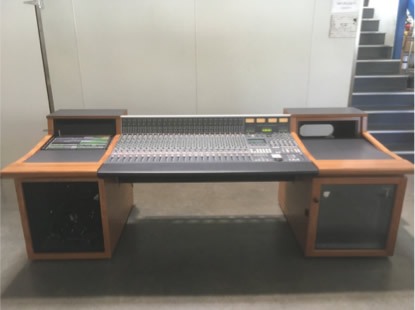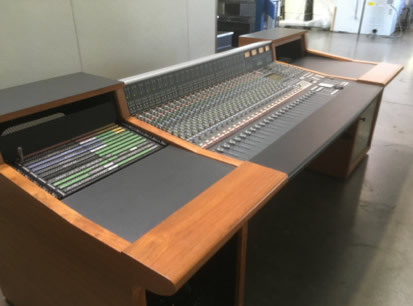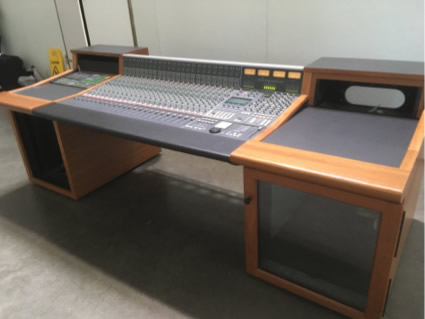 Manuals
Full printed manuals and patchbay layout drawings is included with the console, .pdf manuals available from www.solidstatelogic.com
Conclusion
This console is in very good condition and is eligible for an SSL extended warranty, please contact SSL Los Angeles for more details, if required the Delta automation package can also be installed, current costs $510.00 Healthcheck carried out by Phill Scholes, VP of SSL LA please contact at 213-249- 9229 ext 16 or email for more details